Eero Hirvonen is the frontrunner of Team Finland for Nordic Combined – Japan's Yamamoto starts the cross-country race
The World Cup of Nordic Combined has started with a blast at the Ski Jumping rounds at Ruka. The conditions were great during the Ski Jumping. It was slightly above 10 degrees below zero, and the wind did not disturb the competition. In recent years, significant investment has been made to the wind protection of Ruka's ski jumping hill. The athletes already tested the hill on Thursday, when the provisional round was jumped.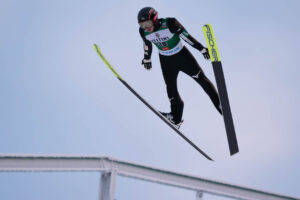 The Japanese Ryota Yamamoto won with 143.5 meter jump. He starts the Gundersen eight seconds ahead of Germany's Julian Schmid, who came second. Austrian Mario Seidl finished third. He gets to the Gundersen 44 seconds after the top.
Before the competition Eero Hirvonen said on YLE's broadcast that he heads to the competition with relaxed mind and without any pressure. He was able to keep the tension under control, and he jumped 131 meters. Hirvonen starts chasing the top with a difference of 1m 52s.
Ilkka Herola was far from the top with modest 111 meter jump. The Finn heads to the 5km Gundersen with the knowledge that the skiing track is the place to compete from the top spots. Ruka has not been always the best place of the World Cup for him in the past either. On Thursday, Herola also said that he needs long jumps to get to the middle positions at Ruka.
Aleksi Rouvinen, Laajasalon opisto
Photo: Jarno Jumppanen
Jaa artikkeli