Julian Schmid wins the Nordic combined five kilometers at Ruka – last year's winner was far from the top
Julian Schmid placed first in the Nordic combined five kilometers race. Clocks stopped at 12:02.2 when the German skied to the finish line. Japan's Ryota Yamamoto was the first to start race. He finished second, 5.6 seconds behind the winner.
Schmid caught Yamamoto steady. Before halfway Schmid had already caught up the Japanese. Schmid could slide across the finish line with out struggling with the Japanese.
Last year, in the Ruka World Cup, Schmid was thirteenth on the same competition. After the race, he was satisfied with his performance both on the hill and on the cross-country race. Schmid has team competition silver medal from the Beijing Olympics.
Jens Luraas Oftebro finished third. The Norwegian started the ski race in fourth place and was 11 seconds behind the winner at the end.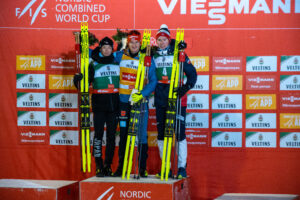 Three Germans made it into the top five. Johannes Rydzek was fourth and Eric Frenzel finished fifth only a second later. Frenzel is third in the all-time table of the World Cup wins with 43.
Jarl Magnus Riiber, who won the race last year, placed fourteenth. On Saturday, it will be interesting to see how Riiber, who has won Ruka's overall competition three times, will do in the 10 kilometer race.
Eero Hirvonen got to the race one minute and 52 seconds behind the top. The Finn who started fifteenth on the race ended up being twelfth. Hirvonen was 1 minute and 10.9 seconds behind the winner.
– Thete is not much to do for five kilometers, but skiing felt good. Now I got the first decent start of the season . I think I will do good at this weekend's competitions, Hirvonen said after the race.
Overall, Friday's best Finn was satisfied with his performance.
Jaa artikkeli