Waltteri Karhumaa continues the family tradition at Ruka Nordic
The 20 years old Karhumaa heads to the competitions with open mind and to try out how the summer training has affected the winter competition condition . What is different from the past years, is that this time during the last day of the competitions athletes ski first and jump afterwards.
– I like it when slightly different forms of competition are brought to the Nordic combined. Hopefully we will see more something like this in the future, Karhumaa says on Sunday's reversed competition order.
– I have been healthy for the last couple of months. This autumn training has gone flawlessly and I have been able to prepare well for Ruka, says Karhumaa.
Karhumaa expects to get a lot of encouragement from the home crowd. The man is naturally also happy that the audience is allowed to be there.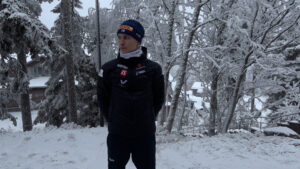 – The thing that is different is the hill, which stretches the differences going into the ski jumping. It's like a Ruka special, Karhumaa analyzes the Ruka Nordic as a competition.
– I'm waiting to get back into the rhythm and see what level I am on, says the man of the combined team.
Waltteri Karhumaa's brother, Wille Karhumaa, is also known for the Nordic combined . Now the family's Nordic Combined mantle is carried the little brother Waltteri.
Aleksi Rouvinen, Laajasalon opisto
Jaa artikkeli