On Sunday, Ruka Nordic's combined skiing will be contested with an exceptional competition format
This year, FIS World Cup Ruka Nordic will see a different order than usual. On Sunday competitors will cross-country ski before ski jumping . Originally this sport was competed in this order.
The Nordic combined order of competitions was changed because the difference in the cross-country race tended to be too big to overcome in ski jumping. The change happened during the 1950's.
– For the Nordic combined, Ruka-triple is available for the first time this weekend. All competition formats are added together and based on the combined result, you get bonus prizes. One form of competition in the combined is a mass start and jumping after that. They (FIS) want each day to have its own kind of race, so that there is no similar race two days in a row. This is probably why, head of competition Jukka Tahkola says.
– It creates interest and perhaps also has some influence on the results . When skiing first, the sensitivity on the jump is not so good.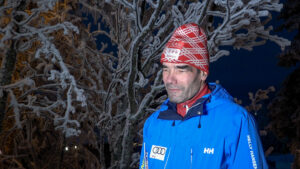 The Head of Competitions hopes he gets to have a moment of peace inbetween the competitions, although there's still a lot of work to be done.
– Before the competitions, I am responsible that the venues and organizations are in order When the time is right and the games are on, everything must work precisely. When the competition starts properly, things have to work and I can be unemployed, so to speak, Tahkola opens his job description with a smile on his face.
Ski jumpers did their first jumping exercises on Wednesday. The venues are in good condition and the cross-country track has been in use the entire time. According to Tahkola, hill jumpers have praised the ski jump conditions. Only small stones are a problem on the cross-country track at the moment, but the matter will be taken care of before the races start.
In Nordic Combines, athletes ski 5km on Friday, 10 km on Saturday and 10km on Sunday. This year Ruka Nordic will get through without major exceptional arrangements due to the corona. People can be taken to the stands to enjoy winter sports. There will be no separate routes either in the same way as last year due to corona.
Aleksi Rouvinen, Laajasalon opisto
Jaa artikkeli