The king of Nordic Combined at Ruka, Jarl Magnus Riiber, is chasing his 50th World Cup victory
Norwegian athlete Jarl Magnus Riiber, 25, has won the Ruka World Cup three years in a row. If Riiber wins in Ruka again this year, it will already be his 50th World Cup win. Based on the success at World Cup, the norwegian is the most successful Nordic Combined athlete. Finnish Hannu Manninen is the second most successful with 48 wins in total.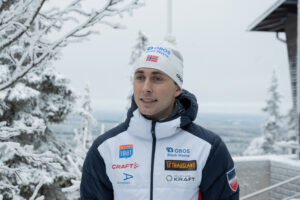 Riiber told at the Ruka Nordic's season opening press conference that he has starts the World Cup season with confidence. The Norwegian is one of the frontrunners this year as well.
– In the last four or five years, I have struggled with injuries in the summer. My shape is not so good during the summer, but one key factor is that I train a lot in the autumn to get myself in shape, says Riiber.
Riiber also praised the Finns, Austrians and Germans for their recent performances. This season, the Norwegian is motivated to improve his performances on big hills.
– I had a great season start at Beitostølen. The championships went well and that makes me positive for the week. Riiber tells he is hungry for the podiums.
– Many athletes have shown great potential in the summer Grand Prix. – I am eagerly waiting what Ilkka (Herola) and Eero (Hirvonen) will achieve this week, says Riiber.
Riiber is a four-time World Champion, a four-time overall winner of the World Cup and an Olympic silver medalist.
Aleksi Rouvinen, Laajasalon opisto
Jaa artikkeli