Expectations were high in the season opening press conference for the Nordic combined, before the opening of the World Cup season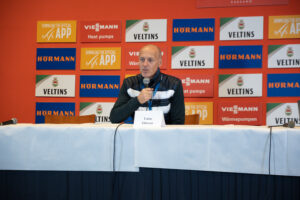 Two-time Nordic combined Olympic champion Vinzenz Geiger had to stop the German Nordic Combined championships earlier during autumn as a precaution due to the Covid-19. In the ski jumping, which took place in a snow-free environment, the German managed to jump the longest jump of the competition. However, Geiger survived the Covid with few symptoms and is ready for the new winter season.
– It is difficult to plan the World Cup season. I know I'm a strong skier, but ski jumping doesn't always go well, Geiger said.
A mass start is not always concidered the most optimal for good skiers to compete.
– I don't understand why there is a mass start here. – I have to accept the challenge, Geiger said.
Germany's head coach Hermann Weinbuch is satisfied with the team's preparation for the season and expects that the Germans will fight for victory at Ruka.
Ivar Stuan, sports director of Norway, has a good situation in the Nordic combined, because Norway is known to have a strong team.
– One of the secrets is that Jarl (Magnus Riiber) is already much ahead of other athletes and is already ready for the next season, Weinbuch said.
Norway supports and cooperates with the other Nordic Combined athletes of smaller countries. One of the athletes in these partnerships is f.ex. Estonian Kristjan Ilves. Norway also has Kazakh and Latvian athletes in its cooperation program.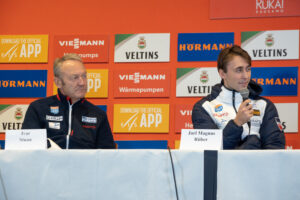 – Our responsibility is to help small countries. It is good for the sport, Stuan said.
The provisional round of the Nordic Combined was held on Thursday. The competition will be jumped in case the conditions become later too challenging for ski jumping.
Austrian Mario Seidl jumped the longest results in the provisional round (145.5 meters), thus winning the competition. Norway's Jarl Magnus Riiber finished second, and Jens Luraas Oftebro, also from Norway, came third. If the results of the provisional round has to be used, Seidl would have a 40-second advantage for the Gundersen.
Aleksi Rouvinen, Laajasalon opisto.
Photos: Ville Manninen
Jaa artikkeli